Self Service Dog Wash
Enjoy our new iClean self-service dog wash tubs! The smart tubs make bathing your dogs fun, quick and convenient.
Everything needed to wash your dog is included for the low price of $12.99. No appointment necessary, come on in!
WE PROVIDE FOR YOUR CONVENIENCE:
Waist-high, enclosed tubs with attachments for your pup and temperature-controlled water
Car wash soap dispensing style spray head with shampoo, conditioner, and an essential oils based flea and tick preventative leave-in treatment.
Light grooming tools and brushes
Heated blow-dryers with high and low settings located within each tub
Fresh towels and aprons
DOG WASH RULES:
Pets with flea infestations must be treated before using our tubs. We carry at-home solutions to help alleviate flea and tick issues.
To ensure a safe and pleasant environment, dogs that have been recently skunked must also be treated prior to using our baths. The secretion from skunks that soak into a dog's coat can cause negative symptoms and general discomfort for people. We offer multiple solutions to treat your dog at home.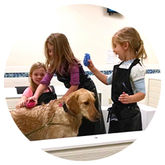 Self-Service Dog Wash
Our self-service dog wash permits you to stand in comfort at the dog washing station, and we provide all the things needed to give your dog a professional wash.
Come Visit Our Local Pet Supply Store Near Whitefish, Montana for Healthy Food, Treats, Supplies and More