Safe, Natural and Effective Organic Product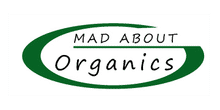 Tailwaggers is proud to carry Mad About Organics in Whitefish, Montana. We just finished re-formulating to meet all EPA requirements and qualify our products as 25b minimum risk. It has been a long struggle, but we worked through it. We are extremely happy that we did not have to close up shop and continue creating one of the safest product lines in the industry, when used as directed.
We thank you from the bottom of our hearts for all of your continued support and we hope to provide you with our amazing products for many years to come.
Mad About Organics, is a family owned and operated company based in Eugene, Oregon. We started Mad About Organics out of passion for our own animals and creating safe organic products that are not only safe for them, but us as well. Our journey began when Sue (Co-Owner) decided to breed her prized mare. Sue and her daughter Elana (Co-Owner) used their scientific background and started developing the safest, natural, and effective organic products in the pet industry to date. Sue is a retired nurse and Elana has her Masters Degree in Animal Science. Ben has a Bachelors Degree in Business focusing in Entrepreneurship and a second Degree in Computer Graphics.
Dog Product
Organic Flea and Tick Repellent Shampoo 
Organic Healing Herbal Hotspot Wound and Skin Care Spray
Organic Healing Skin - Itch Relief for Dogs and Large Animals
Organic Herbal Salve
Organic Skin - Itch Relief Topical Treatment Formulated for Dogs
Insect Repellent Herbal Wipe-on Oil Formulated for Dogs, Cats
Cat Products
Organic Oral Care Herbal Gel
Organic Oatmeal Shampoo 4oz Formulated for Cats
Insect Repellent Herbal Wipe-on Oil Formulated for Dogs, Cats
Organic Insect Repellent Herbal Spray
Organic Oral Care Food Additive Starter Packet
Organic Oral Care Water Treatment
Come Visit Our Local Pet Supply Store Near Whitefish, Montana for Healthy Food, Treats, Supplies and More